Tutorial - How to Backup Wordpress using Cpanel
As already mentioned in the article always backup your data it is also essential that that you frequently do full backups of your Wordpress website or blog and store the output away from your hosted website, so that you have a whole copy of your wordpress site that you can restore in full should anything unfortunate happen to your wordpress site or the web server that it is hosted on.
There is an unfortunate rule in IT and all things technical that states "If it can happen, it will happen" and you should heed this warning with everything you do with your website and blogs, because this rule was written for you, YES YOU .If you do not take the following steps and advice then at some time or other something bad will happen that will make you wish you did the following already!
You can never plan for what might go wrong or what could go wrong, things like server failure, someone hacking your site or even a natural disaster such as a major flood or hurricane. These things are all beyond the scope of your hosting provider so be prepared. It always pays to be safe rather than sorry, and with anything computer related that is so true because when disaster strikes you will be truly sorry if you have not got a backup plan.
Backing Up Wordpress with Cpanel is Easy!
You really now don't have an excuse for not backing up your Wordpress sites as doing it with cPanel is just so simple and quick.
First thig to do is log in to the Cpanel account that your web hosting provider will have supplied for your Wordpress website and look for the Backups icon. Your icon may look a little different to the one illustrated bellow but it will say backup.


Click on this Backups icon once you have located it in Cpanel and you will be taken to the Full Backups page illustrated bellow: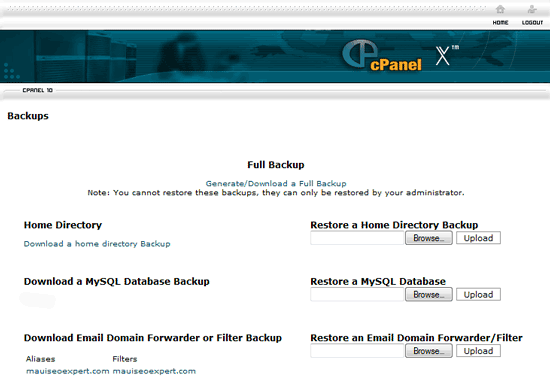 Do a Full Website Backup from within your Cpanel

You are going to create a full backup of the whole of your website, which includes the total folder/directory structure for the entire web site. This also includes all the Wordpress files, the complete MySql database that Wordpress uses and any images or documents used on within yor wordpress site, you must Generate and Download a Full Backup.
The other backups listed as in the image below are for a backup that does not include the wordpress database, just the MySql database on it's own or the email account and forwarding rules on thier own. But for the wordpress backup and the full secure protection of your wordpress website you do need to do the FULL backup.
Just click on the link Generate / Download a Full Backup and this will initiate another screen with a small form of details for you to fill: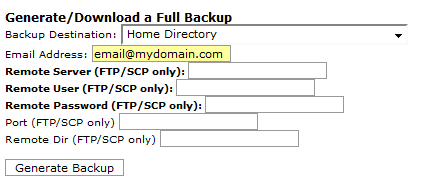 Select the first Backup destination for the backup location as your "Home Directory" (the default). This will produce the backup file in the home or root directory on your websites server.
Just add your email address so that when the backup process completes (it could take some time depending on the size of your site) you will then be emailed to tell you that a full backup has completed.
The other details in the form allow you to locate the backup output on a different server using ftp, but we are not interested in doing this as we just want to get the backup copy downloaded to your pc for your peace of mind and protection.
Once the details have been entered and you are ready to proceed give the Generate Backup button a click to start the full backup of your Wordpress website.
This will automatically start the full backup process and will generate the Backup TAR file on to your website at your web host so that you can later download the backup file to your laptop or personal computer using FTP.
That's it - You are done!
Total Website Security in Just a few easy Clicks!
You have a fully backed up Wordpress website that you can restore from to create your site at your current host, or even a new web host, at any time you want.
If you do this you will get an identical copy of your Wordpress website on any web host you choose (assuming of course that they support Wordpress and cpanel - choose Nete-Quette if you are in any doubt).
One Last Thing
BACKUP UP OFTEN